The property itself has a very interesting backstory and history. It's said that during Prohibition, Paradise Springs served as a debaucherous destination for the wealthy and elite of Southern California to hide away and party in the forest.
Following the reinstatement of legal booze on December 5, 1933, the silver screen film stars' presence declined and the property's prominence and promiscuity faded out during the Great Depression, due to financial problems. In 1965, it was sold and remade as a vacation camp for Christian families with much stricter rules (no gambling, no alcohol, and no dancing) leaving its degenerate past in the mountain dust.
In 1981, the land was sold again to four Christian families of investors, who renovated and turned the space into another Christian camp that stood strong for 35 years — before it was sold to Huttopia and became the relaxed glamping retreat it is today.
Modern Huttopia Paradise Springs feels like the ultimate place to reconnect with nature (in a style more luxurious than simply popping up a tent in the woods) just outside the urban chaos of Greater Los Angeles. The name "Paradise Springs" pays homage in its name to the flowing mountain spring that weaves its way through the property, bestowing the canyon with lush greenery and a sense of vibrancy.
We hope you love Huttopia Paradise Springs! Just so you know, Matador may collect a small commission from the links on this page if you decide to book a stay. Listed prices are accurate as of the time of publication.
Book Now
Easy access to Southern California's best hiking trails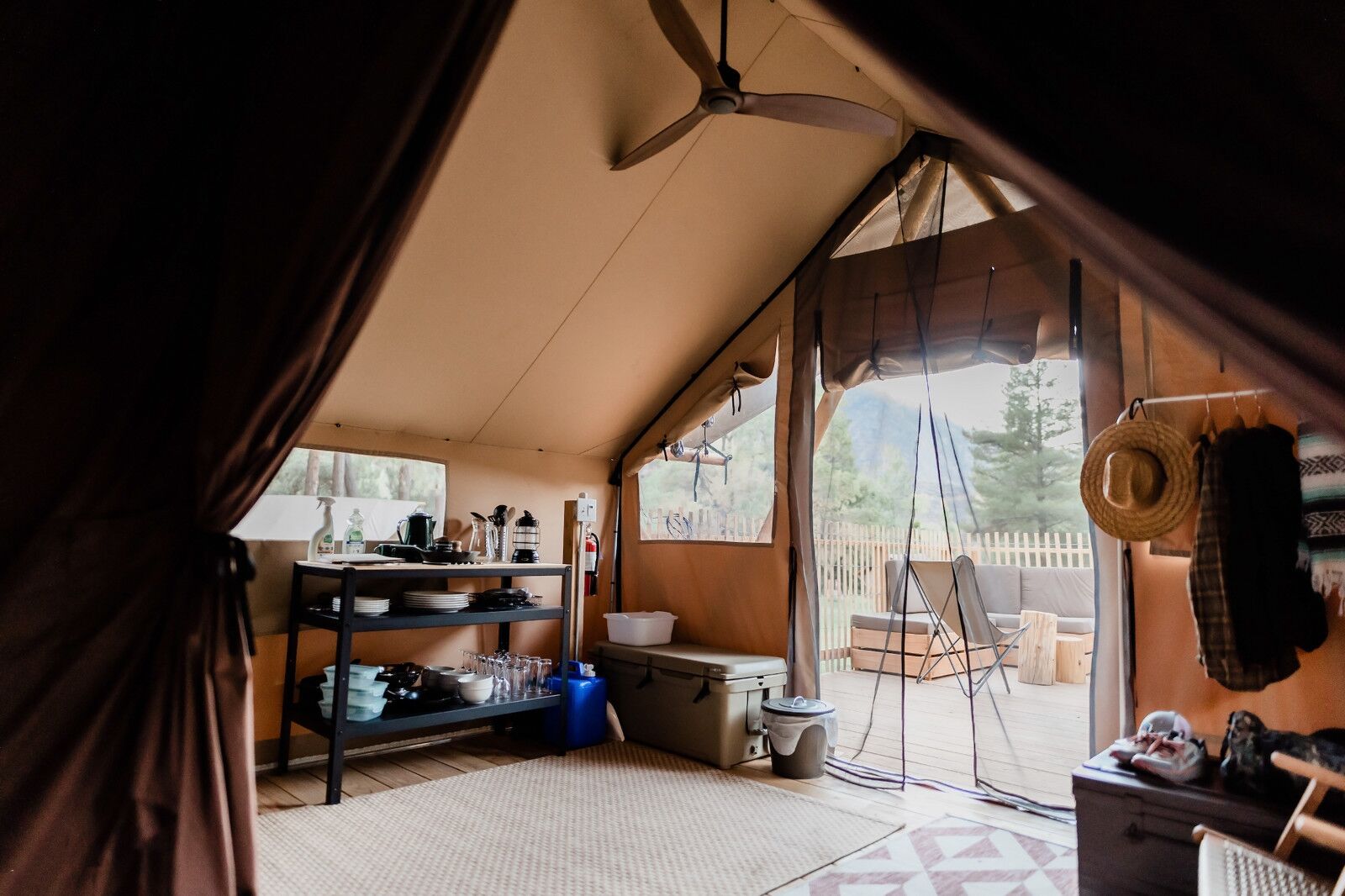 Photo courtesy of Huttopia Paradise Springs
While I was visiting, I took advantage of the easy access to the local hiking trails of the Angeles National Forest. On the first day, I hiked the Mount Baden-Powell trail, which is a part of the Pacific Crest Trail and climbs roughly 8 miles up to a 9,400-foot peak with stunning views of the local mountains.
On the second day, I hiked the Devil's Chair Trail, which was about 5 miles out and back and 1,400 feet of elevation gain.
It was really nice to be so much closer to these two trailheads than I normally am because it meant I was able to sleep in a bit later and not worry about fighting for a parking spot at the trailheads.
And speaking of "sleeping" — the beds inside the tents were extremely comfortable. I loved falling asleep to the sound of the rushing creek water below us.
The tents are made of wooden frames and canvas coverings and feel like they offer the comforts of home — including electricity, beds with cozy mattresses, warm blankets, an electric fan and lantern, private bathrooms, showers, and more — depending on the option you choose.
I was staying in a "Trappeur Duo Pacific Coulter Pine," which was 350 square feet and included a private bathroom with a shower. I loved sitting out on the deck and soaking up the fresh air, and relaxing in the on-site hammocks.
Experiencing Huttopia's French roots in Southern California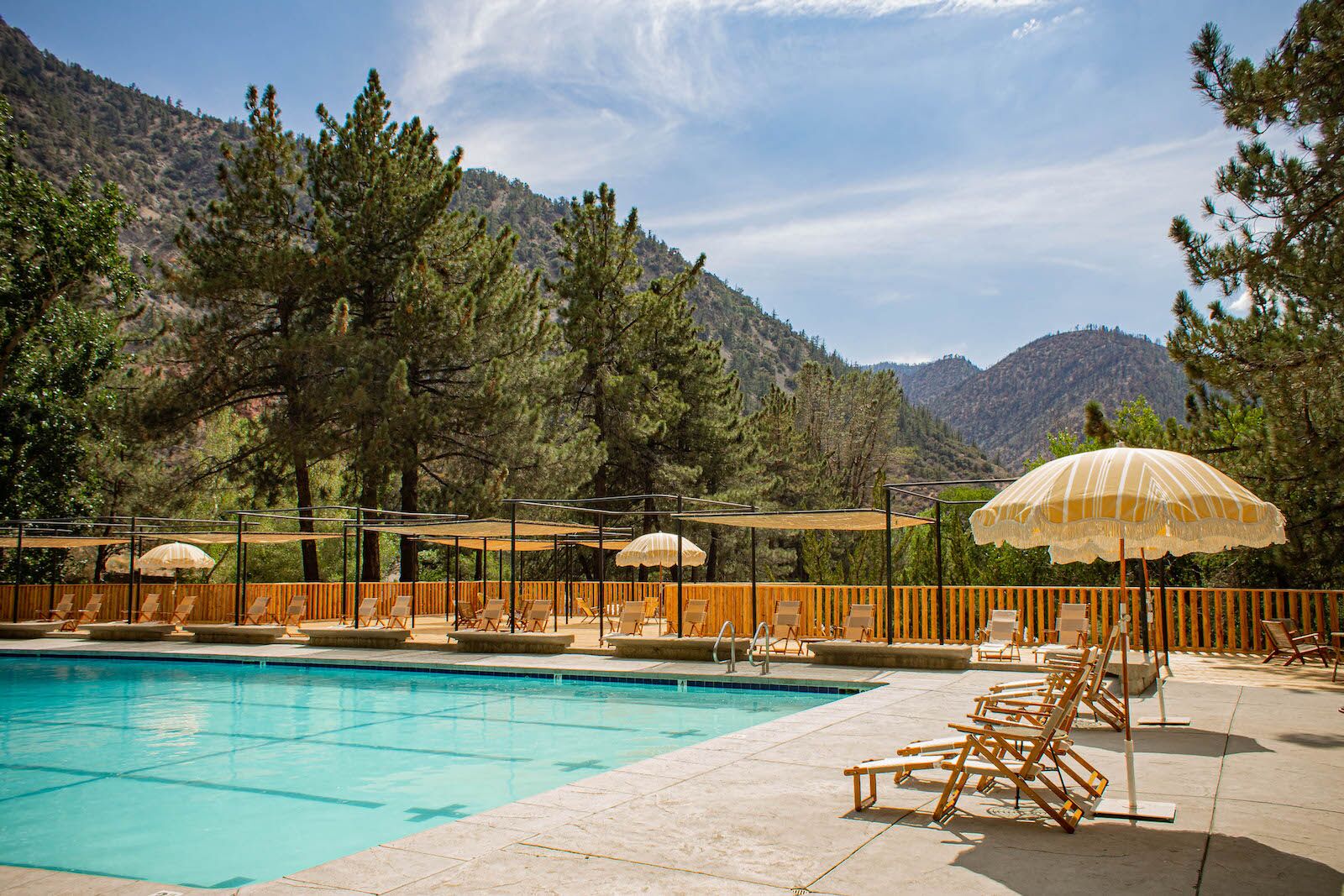 Photo courtesy of Huttopia Paradise Springs
This property was the first Huttopia resort on the West Coast — and you can feel the influence of the brand's French roots on-site and in the spirit of the community. All the signage around the camp is in both English and French, and the atmosphere on-site is laid back.
I encountered a surprising number of international visitors who had made the trek from their flight into LAX or the Hollywood Burbank airport before driving all the way out to this wilderness haven.
Huttopia Paradise Springs is open seasonally, from mid-May to mid-October, hosting 68 free-standing accommodations for guests to choose from. I visited in late August when the temperatures were warm, and the weather was sunny. Visitors who come during from June through mid-August should expect higher temperatures, as the tents don't have air conditioning. Those who want to enjoy cooler temps should plan a visit from mid-May to early June and then again beginning in mid-August. It can get pretty toast in the forest of Southern California in the peak of July.
Visitors can stay in one of the 41 425-square-foot Trappeur Pacific wood and canvas tents, 19 350-square-foot Canadienne Pacific Coulter Pines wood and canvas tents, or eight 350-square-foot Trappeur Duo King wood and canvas tents. Each accommodation offers electricity, cooking equipment, and a fridge or a cooler — as well as an outdoor wooden deck and seating area to enjoy the fresh air at any time of day or night.
The Trappeur Pacifics are a family-sized tent that features two bedrooms — one with a queen bed, and one with a full bed and bunk bed (full on the bottom and twin on top) and their own en-suite bathroom and shower. The Canadienne Pacific Coulter Pines family-sized tents also feature two bedrooms, one with a queen bed and one with a full bed and bunk bed. Guests of The Canadienne can use the communal central bathhouse. The Trappeur Duo Kings feature a King bed, and a private bathroom with a shower. All accommodations come with towels and linens, shampoos and soap, and access to barbecuing equipment.
I spent the night in one of the Trappeur Duo Kings, in a spot that was close to the river — and it was incredibly relaxing to fall asleep to the sounds of the water trickling by. The tent was secluded enough to feel peaceful but close enough to the main gathering area to offer easy access to Huttopia's awesome community offerings.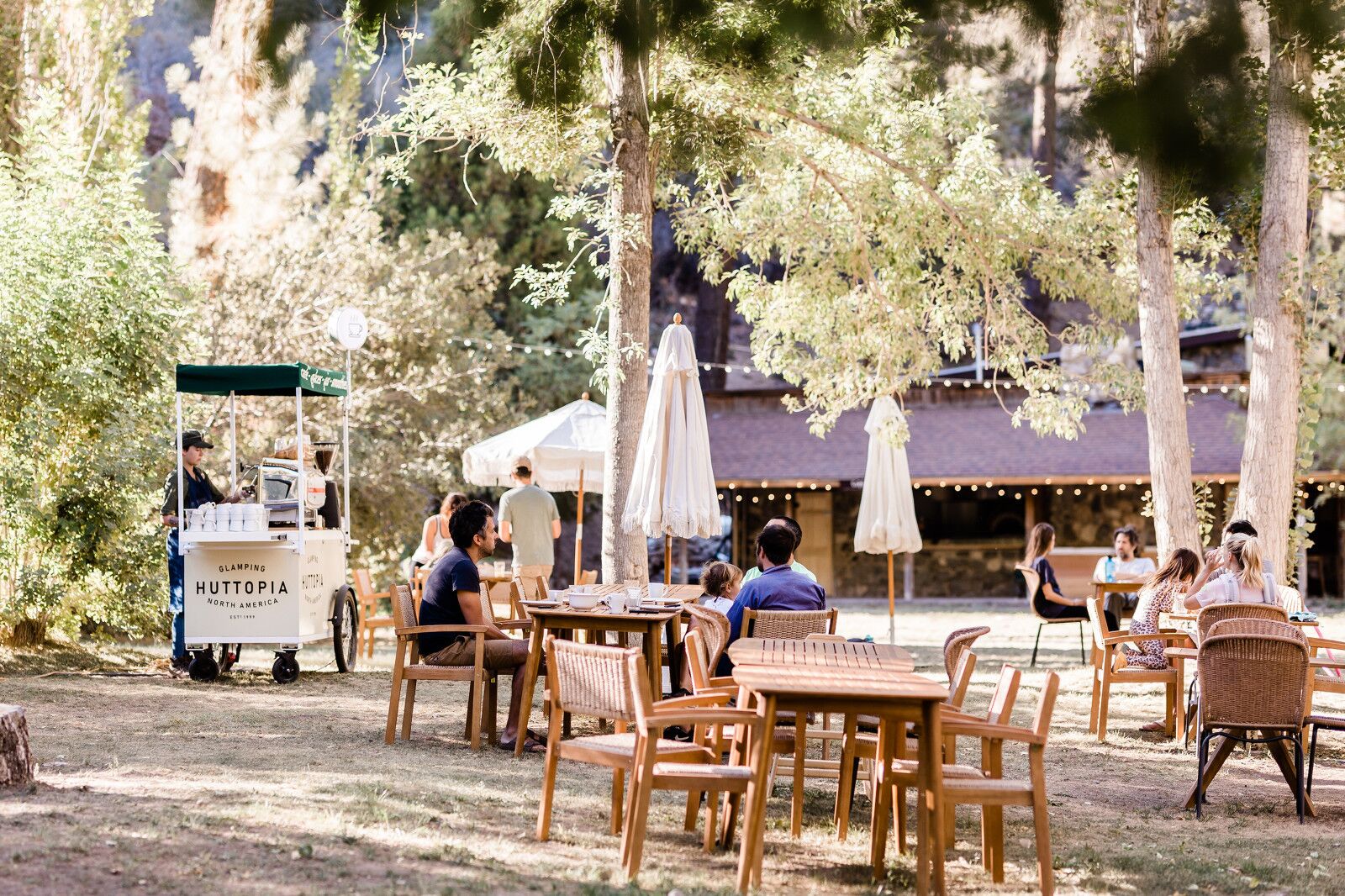 Photo courtesy of Huttopia Paradise Springs
While on-site, you can spend time at the buzzing central lodge and community lawn area, which is dotted with hammocks to lounge in. Huttopia as a brand is extremely family-friendly, and the Paradise Springs location offers an impressive range of children's programming and even "baby kit" rentals. There's a kids' playground and a couple of community fire pit areas to congregate.
The heated swimming pool is fed by spring water and dates back to the 1920s when the original camp was built. Since then, it has been upgraded and renovated, offering a refreshing place to cool down after an adventure in the mountains. The pool is three feet deep at its most shallow point, and 12 feet deep at its lowest point. There's plenty of seating around the pool to lounge and relax.
The on-site restaurant serves fresh, homemade and organic cuisine with healthy breakfasts, lunches, and dinners (the homemade brick oven pizzas and crêpes are a must-try). There's also a range of espresso drinks and smoothies to sample and a camp store that sells local products like souvenirs and non-perishable grocery items. I loved the fresh little macaroons and the kombucha they offered on-site.
If you want to start your day with a real "French breakfast," the restaurant serves traditional French favorites like fresh bread with butter and jam, croissants, and gluten-free muffins. Because Huttopia integrates the destination's local vibes into that property's experience, you should at least once start your day with a healthy "California" breakfast (known as breakfast "à la californienne!"), which is a range of fresh fruit smoothies and acai bowls.
Visitors should be aware that there aren't any grocery stores or shops near the secluded property itself, but if you want to buy supplies to cook your own food instead of eating at the on-site restaurant, you should either bring your own provisions or head to Wrightwood where there's a small grocery store and a range of other cute boutique shops.
There also wasn't any alcohol sold at the restaurant or camp store when I was there — which isn't to say drinking is shunned on-site, but if you'd like to wind down with a chilled brew, you have to bring your own.
Huttopia Paradise Springs incorporates games and activities for all ages
The property has a range of games and sports equipment including foosball, ping-pong, pétanque, and corn hole. Each day, there are on-site activities such as yoga, nature walks, hiking, stargazing, live music, outdoor cinema, s'mores nights — and more. I enjoyed sitting around the fire the first evening, roasting s'mores, getting acquainted with the other guests and sitting in the common area on the lawn and listening to the live music on the second night.
Those who enjoy the glamping outpost's atmosphere can look into the dozens of other Huttopia outposts across the globe. Each camp or village setting is run by a family-owned and independent company started by a French couple named Céline and Philippe Bossanne, who are avid lovers of the great outdoors.
The pair lived in Toronto for a few years, and upon returning to France, they realized how inspired they were by their travels throughout Canadian and American national parks — sparking the idea for Huttopia. They decided to found a business that could create opportunities for like-minded travelers to enjoy natural spaces with good friends and family.
Inspired by the term the "art of camping," the Huttopia brand combines access to nature and the comforts of home with accessible accommodations to create simple and authentic moments to be shared between family and friends.
Another detail I absolutely adore about this property and the Huttopia brand is its pride in championing sustainable practices on-site. Huttopia's aim is "to become the benchmark company in the sector of independent, global and innovative ecotourism." The corporate team achieves this by utilizing lightweight infrastructure in its building and designing practices and setting up their structures in a way that respects nature while having a minimum impact on the local environment.
But my absolute favorite part of the property was how incredibly close it is to the stunning hiking trails of the Angeles National Forest. You'll need a car to be able to thoroughly explore off-site, but there are numerous trails to trek within a 30-minute drive of your Huttopia canvas tent.
It's a great spot to set as a home base to explore nature in a destination that's often overlooked for doing so, especially considering its proximity to the urban chaos of Southern California. Huttopia Paradise Springs truly feels a world away.

Book Now