It's rare that a place can guarantee wildlife sightings, but that's exactly what happens at Colca Canyon. As long as you time things right, you'll see at least half a dozen of the majestic Andean condors expertly navigating the rising thermal drifts. On my visit to the Colca Canyon, it seemed almost as if the condors enjoyed the attention. They swooped within a few feet of smartphone-wielding tourists with little effort, rarely flapping their wings in favor of riding the air currents.
For visitors, the trip to Colca Canyon is a long but fairly easy one, especially considering the payoff. And if you don't want to bother with the details, you can sign up for a tour and let someone else do all the planning while you just snap the photos.
About Andean condors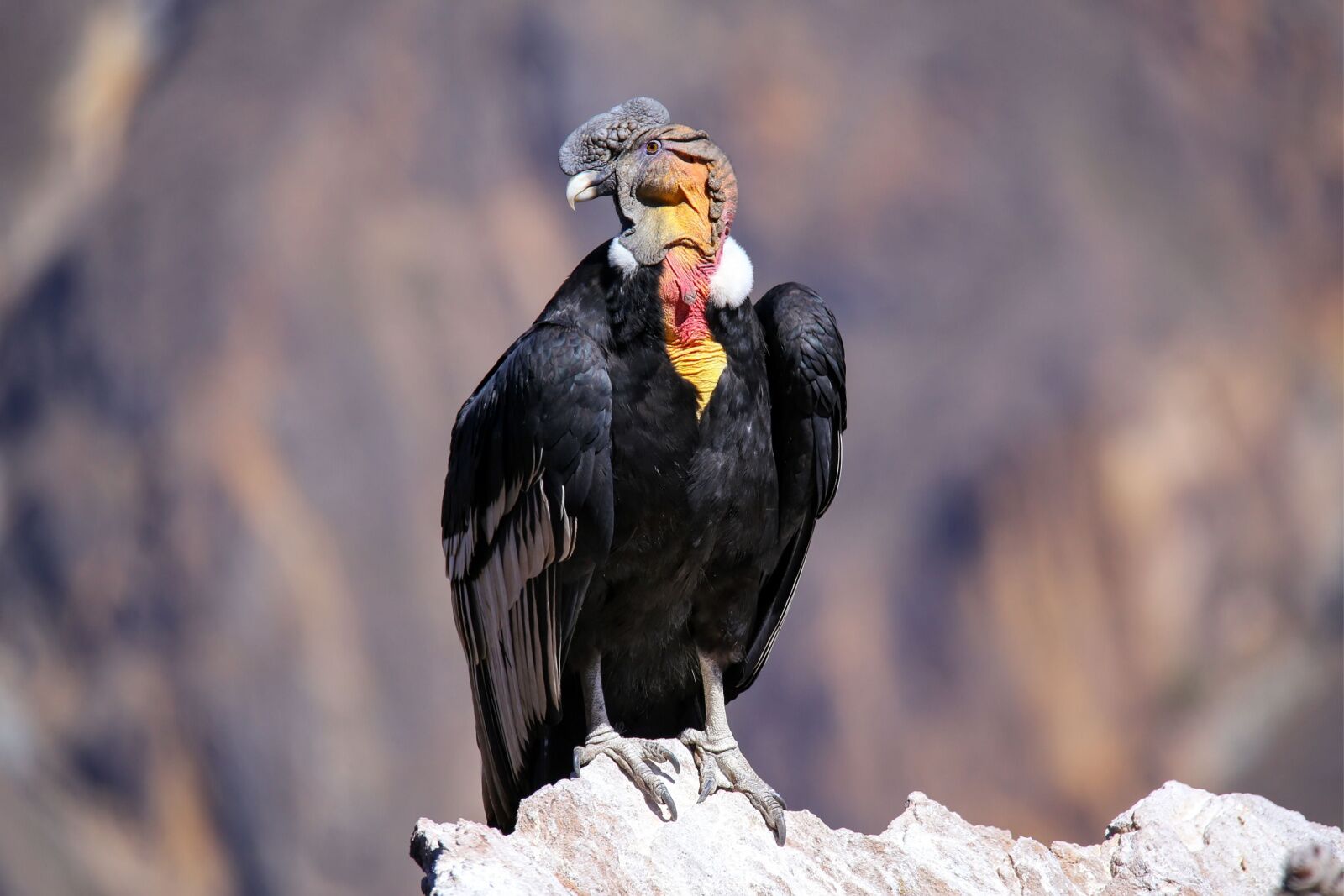 Photo: Don Mammoser/Shutterstock
The Andean condor is the largest raptor (bird of prey) in the world. Unlike the tourists that travel long distances to watch them fly, these birds thrive at high altitudes. They can have a wingspan of up to 11 feet and weigh up to 33 pounds. They're incredibly easy to spot in the sky as they're the largest birds you'll see, by a huge margin.
The closest thing you'll get to Andean condors in the United States are their cousins, the California condor. California condors have a longer body, but Andean condors are heavier in overall weight. Preservation efforts to save the California condor in the US prevented the bird's extinction just a few decades ago. Similar efforts in South America have allowed Andean condors to maintain limited populations in places like the Colca Canyon.
In Peru, condors are associated with the Incan sun god Inti as a symbol of power, freedom, and a spiritual connection between the heavens and Earth. The condors are the rulers of the upper world. And when you see them soaring up above, that description fits. The condors' abilities to soar at great heights with such ease are appropriate symbols for Peru's resilient indigenous communities.
Where to see Andean condors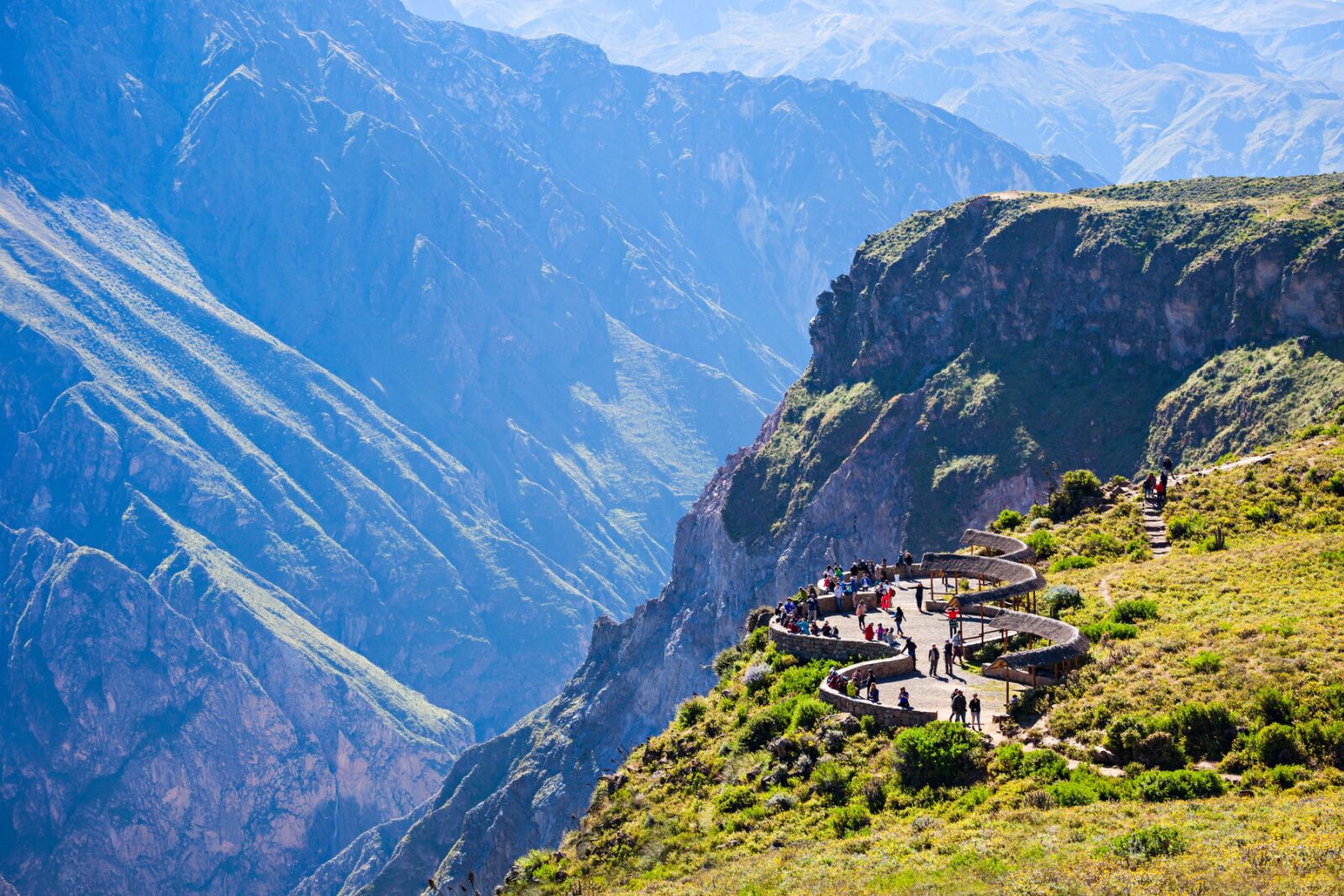 Photo: saiko3p/Shutterstock
Andean condors live at high altitudes in the Andes mountains. You can find them in Ecuador's Cotopaxi National Park, the Patagonia regions of Argentina and Chile, and, to a lesser degree, around the Colombian Andes.
But Peru's Colca Canyon is the most famous spot to see these impressive raptors up close. They love riding the air currents, or thermals, that rise from the bottom of the canyon as they stretch their wings as if putting on a show for spectators. And the canyon's very steep walls (which are more than 6,000 feet high in some places) provide plenty of places to nest as well as plenty of vantage points for finding food.
The Cruz del Cóndor viewpoint, or Condor Cross, is the most accessible spot at the canyons for visitors to watch the birds soar. Expect to see anywhere from six to 10 birds at a time from this viewpoint alone. It gets crowded, but since the birds are often above your head, it's relatively easy to spot them. You can also visit the Tapay viewpoint, on the other side of the canyon from the Condor Cross. To get to either one, you'll take a bus from Cabanaconde. You can also hike to the San Migue or Achachihua viewpoints from Cabanaconde.
If you're not acclimated, you may feel the effects of those heights. Your guide will likely have some ginger or coca tea to manage any altitude sickness or prevent side effects like headaches and nausea if you're on a guided tour. There are a few easy paths around the viewpoint to follow the birds mid-flight, but take it easy while you're there if you're not feeling your best.
How to get to Colca Canyon

Colca Canyon is in southern Peru, in the Arequipa Region of the Andes Mountains, and there are a few options for how to get there. Cabanaconde is the closest town.
The easiest by far is a guided tour. The canyon is about 136 miles from the city of Arequipa, the closest base for day trips to the region. A guided tour will pick you up at dawn from your Arequipa hotel or a central location. Since you don't have to worry about watching for your stop, this gives you time to rest and reset before the big show. Once you arrive at the canyon, you'll visit some of the raptor viewing areas before having lunch and likely heading to another nearby stop, like the La Calera or Chacapi hot springs. You can also do multi-day tours that involve some hiking into the canyon.
Alternatively, you can take a bus to Cabanaconde, a starting point for more intrepid travelers interested in hiking to the canyon. Public buses leave from Arequipa to Chivay (a town about 1.5 hours from Colca Canyon) about three times per day. From there, grab another bus to Cabanaconde, or hop on a colectivo. Colectivos are privately run minibuses or vans that operate like shared taxis. While they'll get you to where you need to be faster than public buses, you may need to wait until they fill up before they leave.
Times for public buses are posted at the main bus station in Chivay. If you just missed one, a colectivo from there is the better option.
Expect a full day of travel to and from the canyon no matter how you get there. This is a long but worthwhile day.
When to go to Colca Canyon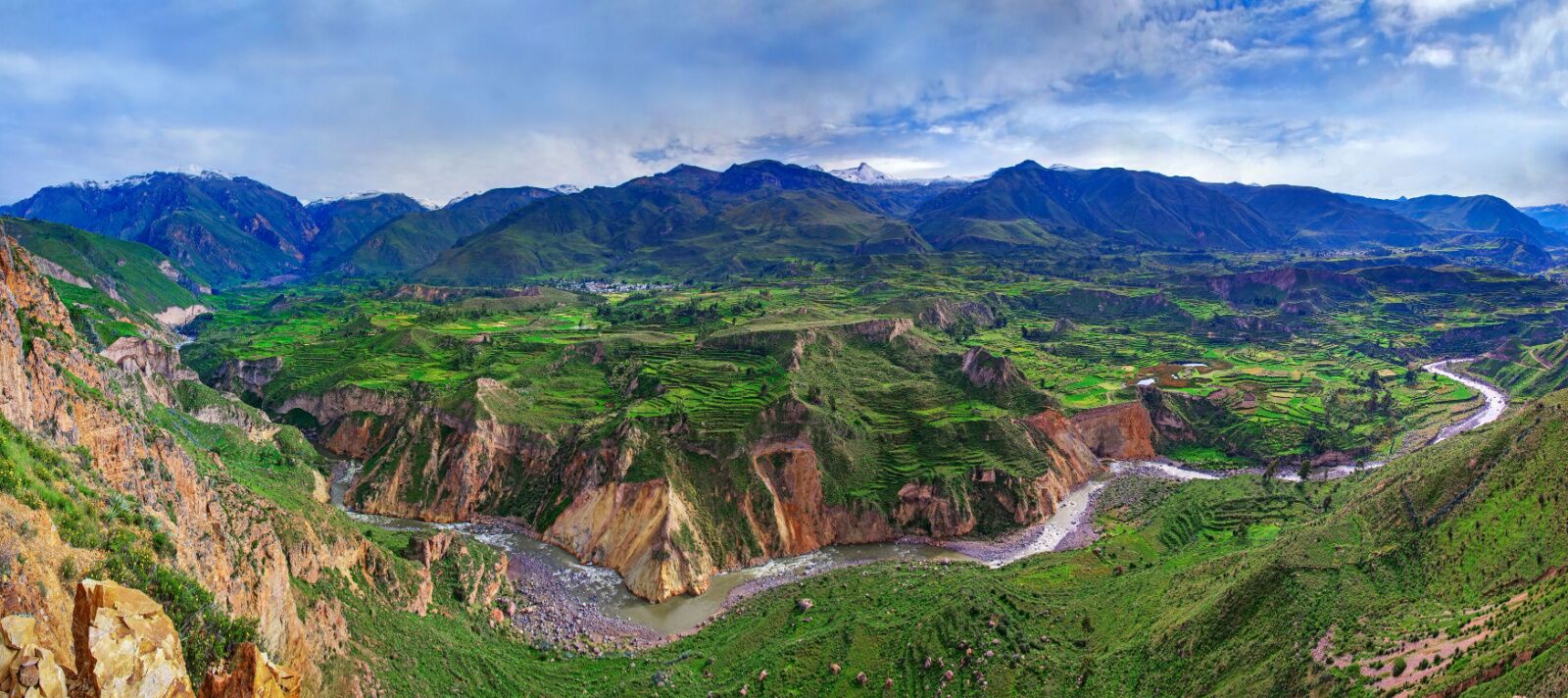 Photo: Belikova Oksana/Shutterstock
The best time of year to go to Colca Canyon is during Peru's dry season from May to November. May to June are especially good as the birds take to the sky after the rainy season. I can vouch for May travel. It was sunny, with temperatures mild enough for some light hiking around the canyon. You want to go in the morning, as the Andean condors are most active between 8 and 10 AM when the sun peaks out of the lifting fog.
That's why most tour operators pick you up well before dawn to get you out to the canyon by 8 AM. After mid-morning, Andean condors return to roosting and resting until it's time for them to scavenge again.
Recommended tours to Colca Canyon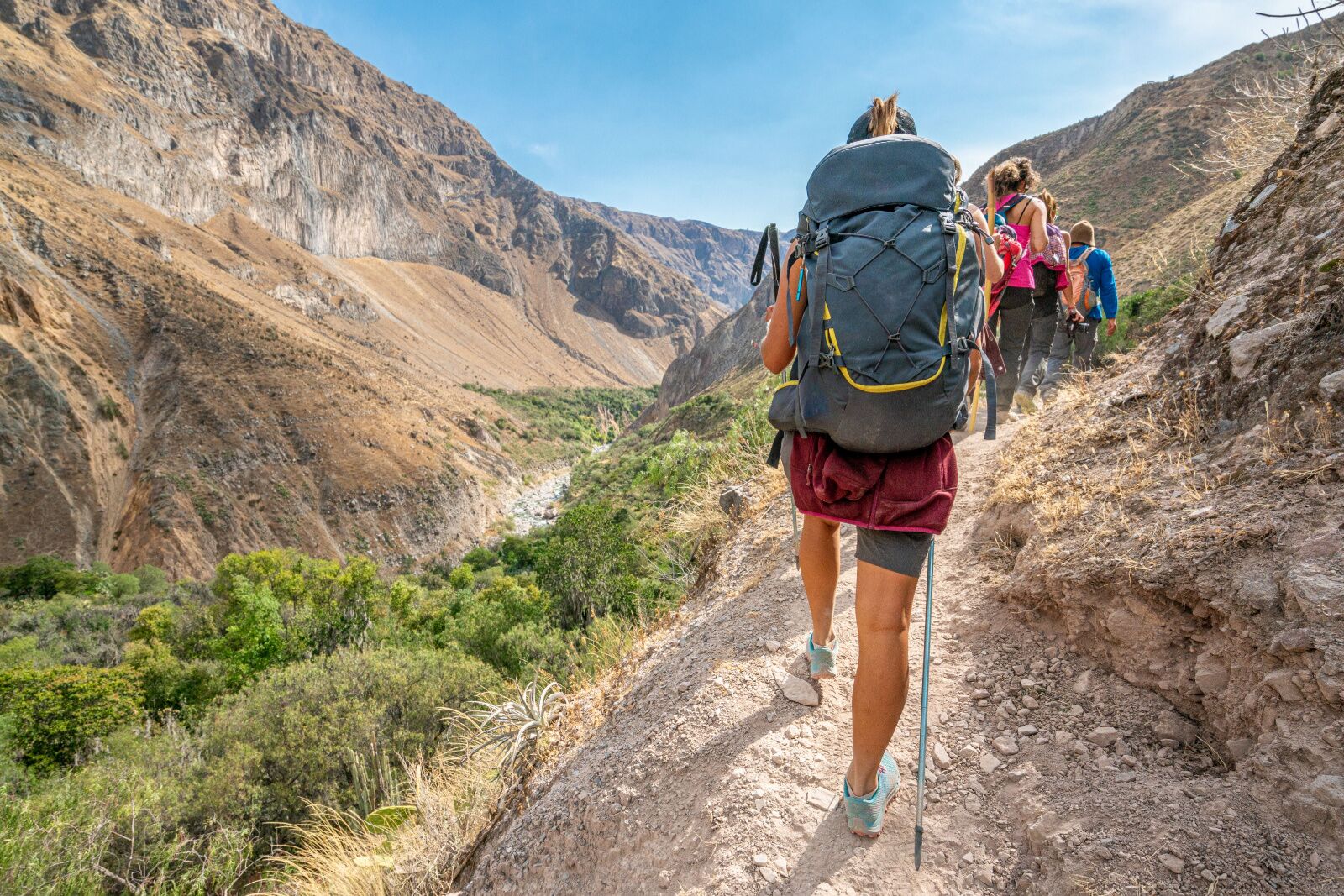 Photo: Daniel Hesketh/Shutterstock
We booked a full-day tour from Arequipa with Peru Baby Llama, one of the most affordable options available. As with most tours, there were a few additional stops along the way. That might include viewpoints of pre-Incan terraces, handicraft shopping, hot springs, and a natural reserve for additional wildlife spotting of alpacas, llamas, and the skittish vicuña.
Many tours include a packed lunch. We didn't get this with Peru Baby Llama, so I recommend bringing cash for food, additional snacks, and tips.
Oasis Palmeras Travel offers highly rated two- and three-day treks to Colca Canyon that stop at pre-Inca terraces and the valley around the canyon. Trek the Colca is another option with two-day tours that include a hike down into the canyon. Note that hiking into the canyon isn't for beginners. The climb into the canyon is steep and the effects of the high altitude can make it extra challenging.
Be sure to check if your tour includes admission to Colca Canyon. The fee is 70 soles (about $20) per person to visit the canyon. You can pay it at the various checkpoints by the viewing platforms. Hang on to your ticket as staff will likely check it a few times while you're there.
Where to stay near Colca Canyon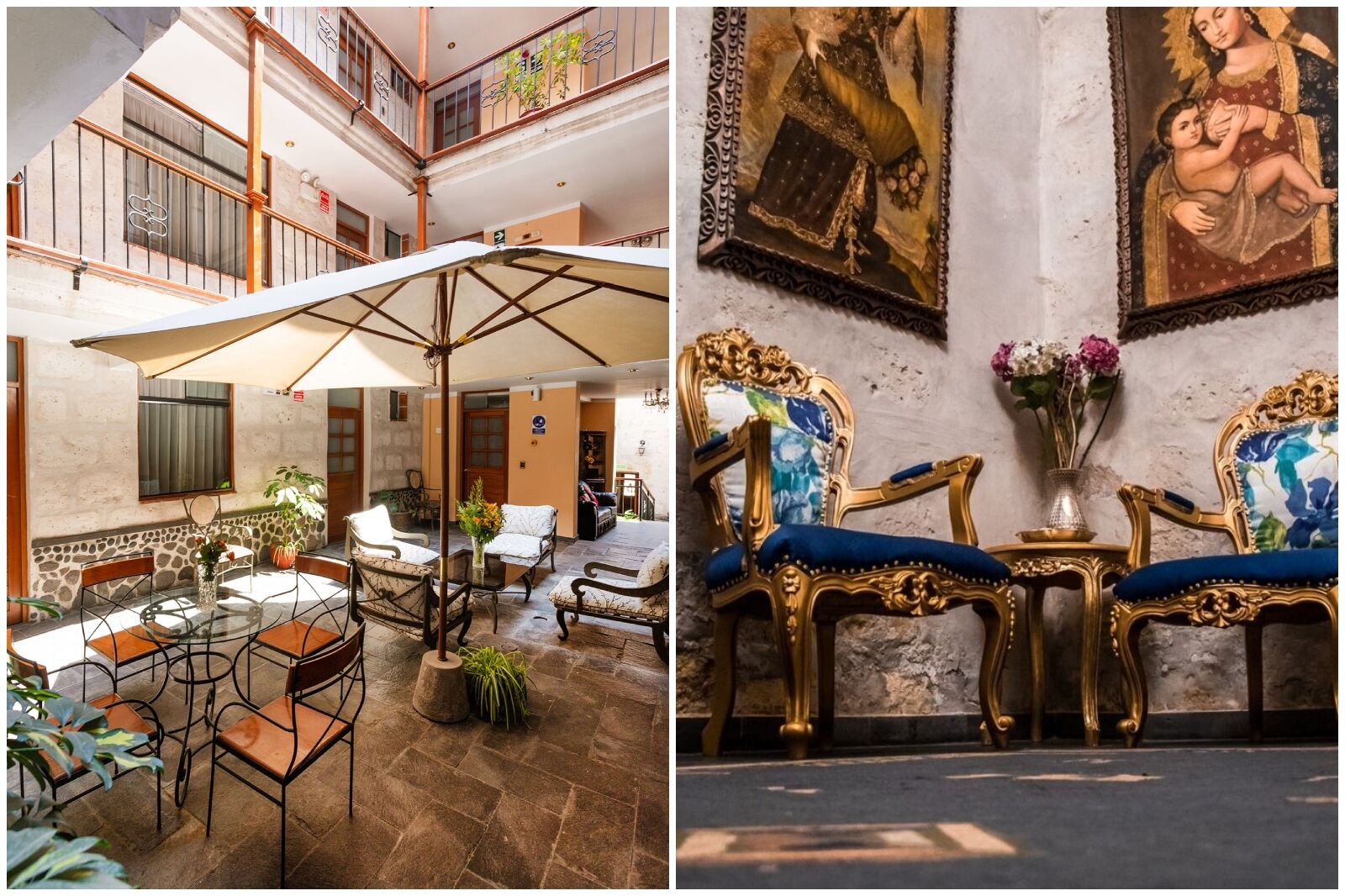 Photo: El Portal de San Lázaro
We hope you love the hotels we recommend. Just so you know, Matador may collect a small commission from the links on this page if you decide to book a stay. Listed prices are accurate as of the time of publication.
If you're traveling on a day trip from Arequipa, you have quite a few options for accommodations at a variety of price points.
El Portal de San Lázaro is in Arequipa. The location of this central hotel is ideal for travelers who want everything they need within walking distance.
You can even stay closer to the canyon so that the day doesn't feel as long. If you're visiting on a guided tour, your tour operator will likely suggest accommodations for you if your booking doesn't already come with overnight stay. If not, Casa Andina Classic Colca is superb. The rustic eco-friendly hotel in Chivay has an on-site restaurant with live entertainment and a planetarium for stargazing. Another great option is La Casa de Mamayacchi. This property in the village of Coporaque has mountain views from each of its rooms. A sassy llama on site only adds to the ambiance.