Thankfully, in Oklahoma City, those safe spaces are not just surviving, but thriving. From bars to restaurants to shops, there are plenty of places to be gay in Oklahoma City where you'll find a large social scene. The city even has an openly gay councilman: James Cooper, who is serving his second term.
While Oklahoma City is a great destination for LGBTQ+ travelers, the city's dining and arts scenes have significantly evolved in recent years, making OKC an exciting place to visit for everyone. Here's a current guide to gay Oklahoma City, with six reasons why it's becoming an LGBTQ+ hot spot in the Midwest.
To learn more about the fight for equal rights in Oklahoma, visit Freedom Oklahoma or PFlag Oklahoma City.
1. The LGBTQ+ District has a long history of standing up for equal rights
The 39th Street District, also known as "The Strip," is the commercial district on 39th Street between Pennsylvania Avenue and Youngs Boulevard. It was part of the historic Route 66 and it is now the heart of gay Oklahoma City, which is a rather bustling LGBTQ+ district. The district has a number of bars and nightclubs, and holds a monthly LGBTQIA+ bar crawl with live performers, food trucks, and drink specials starting at $4 – an unheard of price if you're coming from most big cities.
The story of the 39th Street District started with Angles, a gay club that opened in 1983 on 39th Street. When Angles first opened, it was a favorite target of police harassment. The owners filed a civil rights lawsuit against Oklahoma City – and won. The settlement reduced police presence around the club and set a precedent that it was okay for other gay businesses to spring up in the area.
The 39th Street District is also home to the largest LGBTQ+ resort in the Southwest. It used to be called the Old Habana Inn, but was reopened as The District under new ownership. The Habana Inn was originally built in 1968 and was showing its age, so the resort is currently undergoing renovations. That means the rooms can be hit-or-miss, but the hotel's summer pool parties are still very popular, held on Friday, Saturday, and Sunday each week. Historically The Habana Inn catered to gay men, but now The District aims to be more inclusive of the broader LGBTQ+ community.
2. It has not one but two pride festivals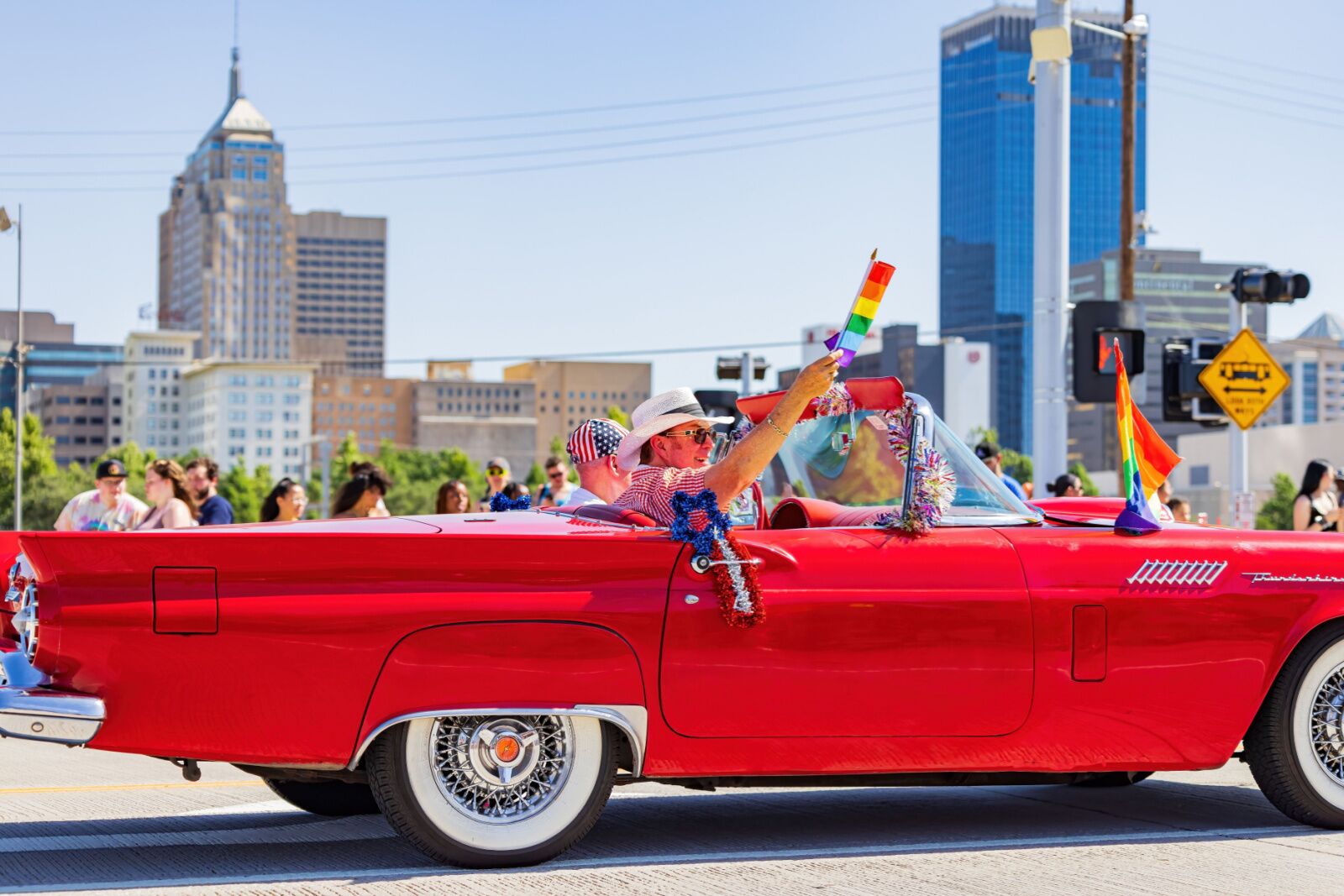 Photo: Kit Leong/Shutterstock
Oklahoma City has two separate Pride celebrations for June's pride month. One festival celebrating gay Oklahoma City is more than 35 years old, and is held on 39th Street. It's a multi-day festival with various pre-festival events ranging from bowling nights to parties. The festival itself takes over the whole 39th Street District, and has live entertainment, food trucks, and more, culminating with the annual OKC "Pride on 39th" Parade.
Another festival that started out not too long ago is PrideFest, put on by the OKC Pride Alliance. PrideFest brings the celebration to the rest of the city, with a three-day festival at the city's central Scissortail Park, and a parade through downtown Oklahoma City. The festival has live performances, art, vendors, and community resources, and is generally a bit more family-friendly.
3. OKC has lots of new openings and re-openings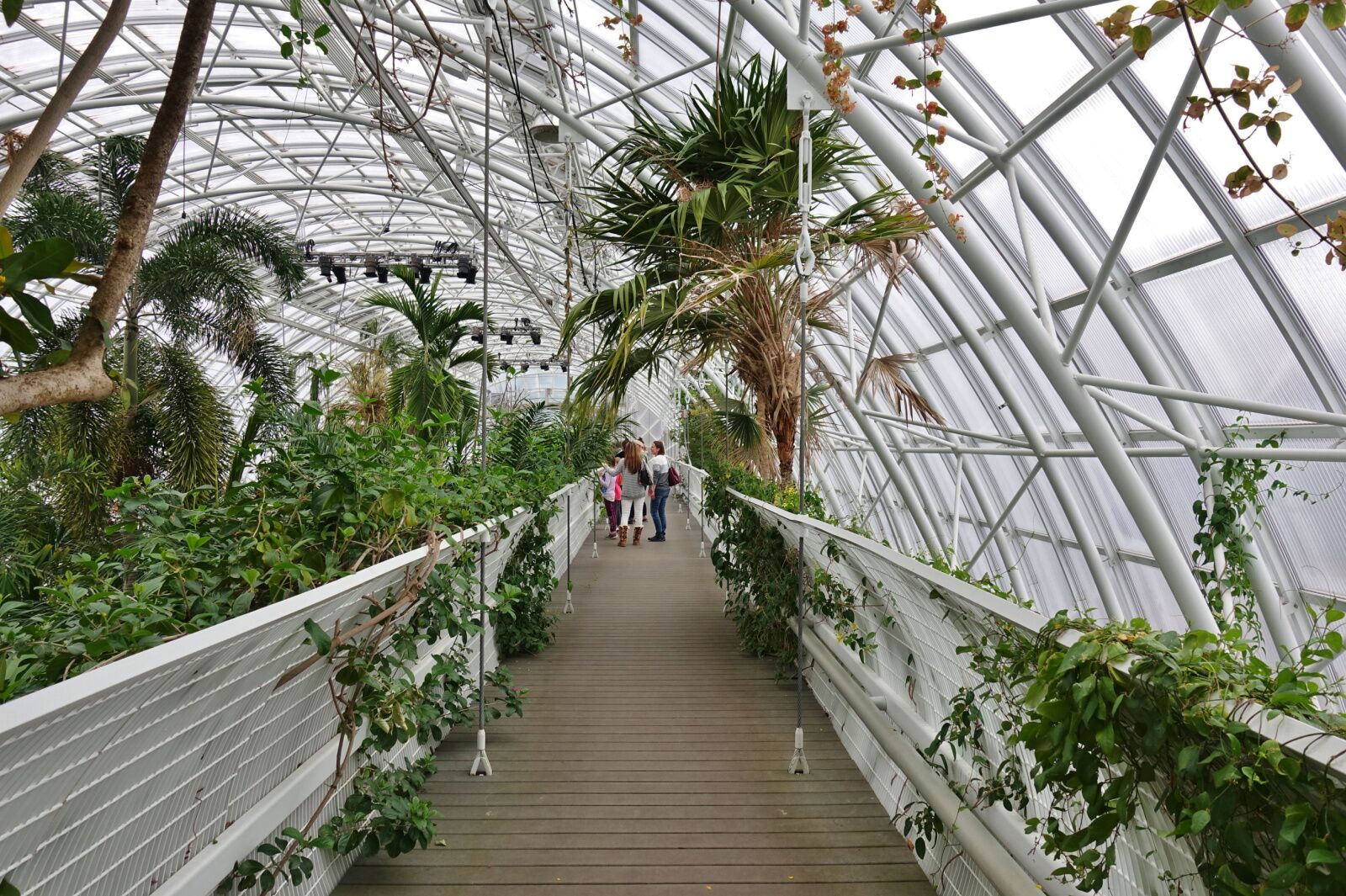 Photo: EQRay/Shuttrstock
There have been a few notable openings in Oklahoma City, from hotels to museums. The former First National Bank building, recognizable for its art deco tower, reopened as First National Center, housing The National Hotel and multiple dining concepts. Details of the historic bank are still preserved in The Great Hall, including murals depicting Oklahoma's history and the old bank teller windows. The hotel and restaurants are welcoming to all guests, including, of course, LGBTQ+ guests. The subterranean bar (the Library of Distilled Spirits) often partners with the OKC Pride Alliance to host events where cocktail profits benefit the organization.
Also in OKC is the 175,000 square-foot First Americans Museum, honoring the history and stories of the 39 tribal nations of Oklahoma.
There are also a lot of urban green spaces around OKC. Scissortail Park was finally completed in 2022 with the opening of the Lower Park, providing a total of 70 acres of open space for soccer fields, water sports, and more. The iconic Crystal Bridge Conservatory at the Myriad Botanical Gardens also finally reopened to the public after being closed for a full year during renovations.
4. Queer-owned businesses are thriving across the city
There are a number of Oklahoma City gay bars around the 39th Street District, plus several more dance-focused LBGTQ+ nightlife options. But there are quite a few queer-owned businesses in other parts of the city, too.
HumanKind Hospitality Services is partially queer-owned and operates several restaurants in the Paseo Arts District, from the vegan-friendly Picasso Cafe to the taco-slinging Oso on Paseo. 84 Hospitality Group is another queer-owned group responsible for a number of popular spots around the city, including Goro Ramen and Empire Slice House, which expanded to multiple locations in the state. Restaurants from the groups don't necessarily market exclusively to the LGBTQ+ crowd, but are a safe space for all populations in the city, gay or otherwise.
While gay bars in Oklahoma City are easy to find, visitors may be surprised to learn that there are also several lesbian bars – something rather rare across the US. Alibi's, Indigo Lounge, and Frankie's. The latter is marked as closed on Yelp, but don't fret; it's very much open.
But it's not all about bars and restaurants. Oklahoma City's gay community can also browse queer-owned shops not shy about showing their pride. Common Dear is a colorful gift shop that showcases LGBTQIA2S+, BIPOC and AAPI-owned brands on its shelves. The Queer Collective also offers an extensive and unique selection of gifts and everything you need to celebrate pride all year long, and Craig's Emporium, which started as a small gift shop 25 years ago, now carries everything from books to jewelry to crystals and tarot decks.
5. OKC's art scene celebrates diversity
Oklahoma City was named as one of the best cities in the US for street art. This was in large part thanks to the Plaza Walls, a rotating mural project in the Plaza District that hosts over 30 murals from artists around the country.
If you're the type of traveler who wants not just to look at art, but touch it, too, there's Factory Obscura, an immersive and multi-sensory installation from a collective of local artists, makers, and musicians. At Factory Obscura, visitors are encouraged to touch the art. During Pride Month, it hosts the "Pride Artist Market," showcasing work from LGBTQIA+ artists.
And if you prefer art on stage, check out the line-up at the historic Lyric Theatre in the Plaza District. It doesn't shy away from putting on musicals that celebrate LGBTQ+ diversity throughout the year.
6. The culinary scene is heating up
Photo: Sean Pavone/Shutterstock
For the most part, the dining scene in Oklahoma City remains under the radar, but it's not unheard of for the city's restaurants to land national attention. In 2018, the 22-seat tasting menu restaurant, Nonesuch, was named America's Best New Restaurant by Bon Appétit Magazine. In 2022, the small Laotian kitchen of Ma Der Lao landed on both The New York Times' "Top 50 Restaurants" list and Bon Appètit Magazine's "50 Best New Restaurants" list.
But the two nationally recognized restaurants aren't all the city has to offer discerning diners. Stock & Bond carves up steaks sourced from ranches in the High Plains region of the Great Plains, and Pie Junkie serves some of the best pies you'll find anywhere in the Midwest. Palo Santo is said to be the city's best cocktail bars, with knowledgeable bartenders and well-crafted seasonal cocktails.
How to get to Oklahoma City

The closest airport to Oklahoma City is Will Rogers World Airport, which also happens to be the largest airport in the state. If you're visiting to explore all that gay Oklahoma City has to offer, you may find that having a car once you're there is unnecessary, as ride shares and taxis are affordable and easy to find.
However, if you are driving, you'll find that parking isn't as difficult or expensive as it is in most other US cities. Oklahoma City is an easy weekend road trip from Dallas, TX, (a three-hour drive), Kansas City, MO, (a five-hour drive), or even Nashville, TN (a 6.5-hour drive).