Where to find the best state parks in Arizona

Arizona is fantastic when it comes to access. With several large airports, an extensive highway system, and wide open roads, it's pretty easy to reach whatever park you want to go (or connect several parks on one trip).
Kartchner Caverns State Park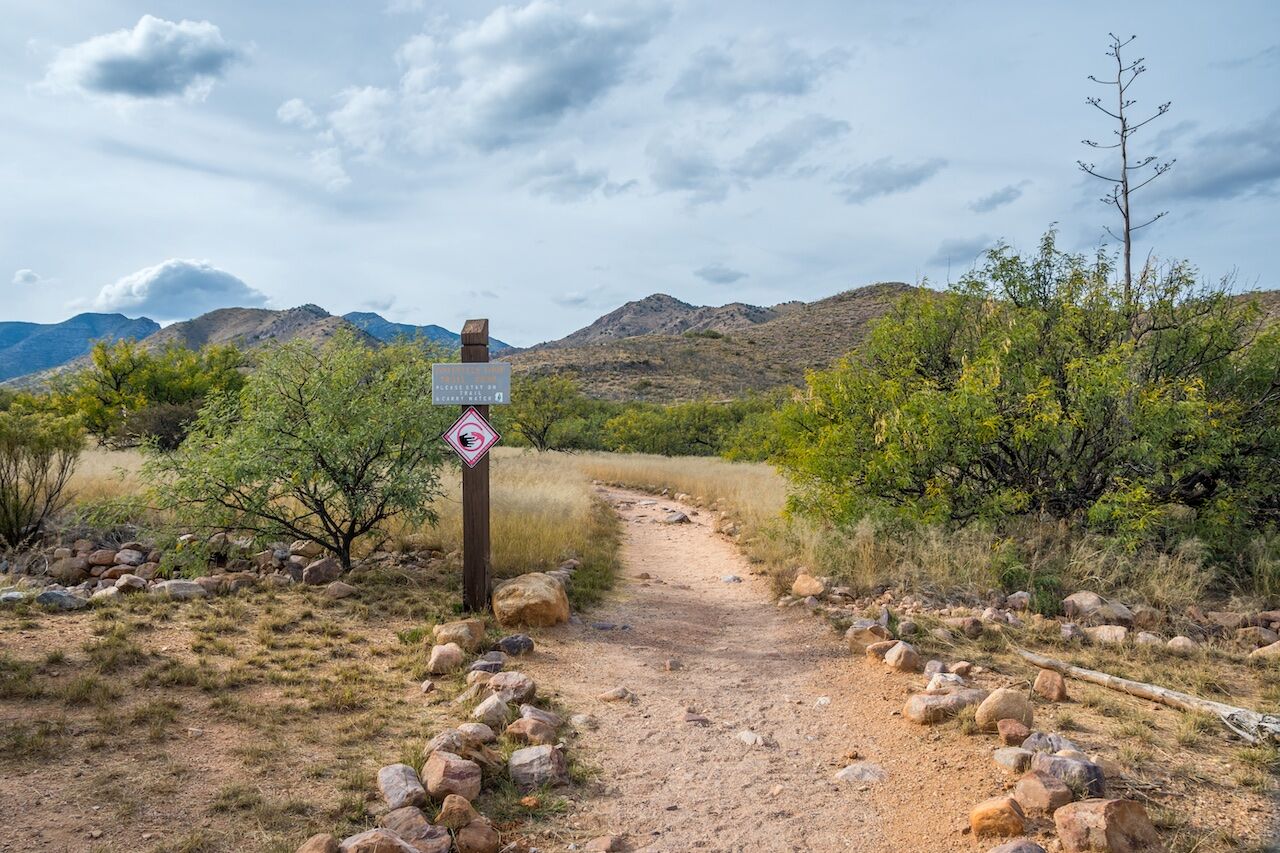 Photo: Cheri Alguire/Shutterstock
Address: 2980 AZ-90, Benson, AZ 85602
Camping: Yes
Kartchner Caverns — named for the family who owned the land when the caves were discovered in 1974 — is unassuming above land, but a geological wonder below the surface. It opened to the public in 2003 and offers daily tours of the 2.4-mile-long cavern. There are quite a few different types of cave tours, including tours lit only by lanterns, photography tours, and tours just to the Rotunda/Throne room, home to the state's largest formation, called Kubla Khan.
You should book your tours in advance, since they tend to sell out. Tours are open year-round, but hours vary. Campground reservations should be made in advance online if possible, but there's good news if camping isn't your thing: this is one of several Arizona state parks with on-site cabin rentals. They're basic, sort of akin to what you'd find at a KOA, but they can sleep up to six people and have heat and air-conditioning, plus a mini-fridge and microwave. Bathrooms are shared with other cabins, and rates start at $99 per night.
Tonto Natural Bridge State Park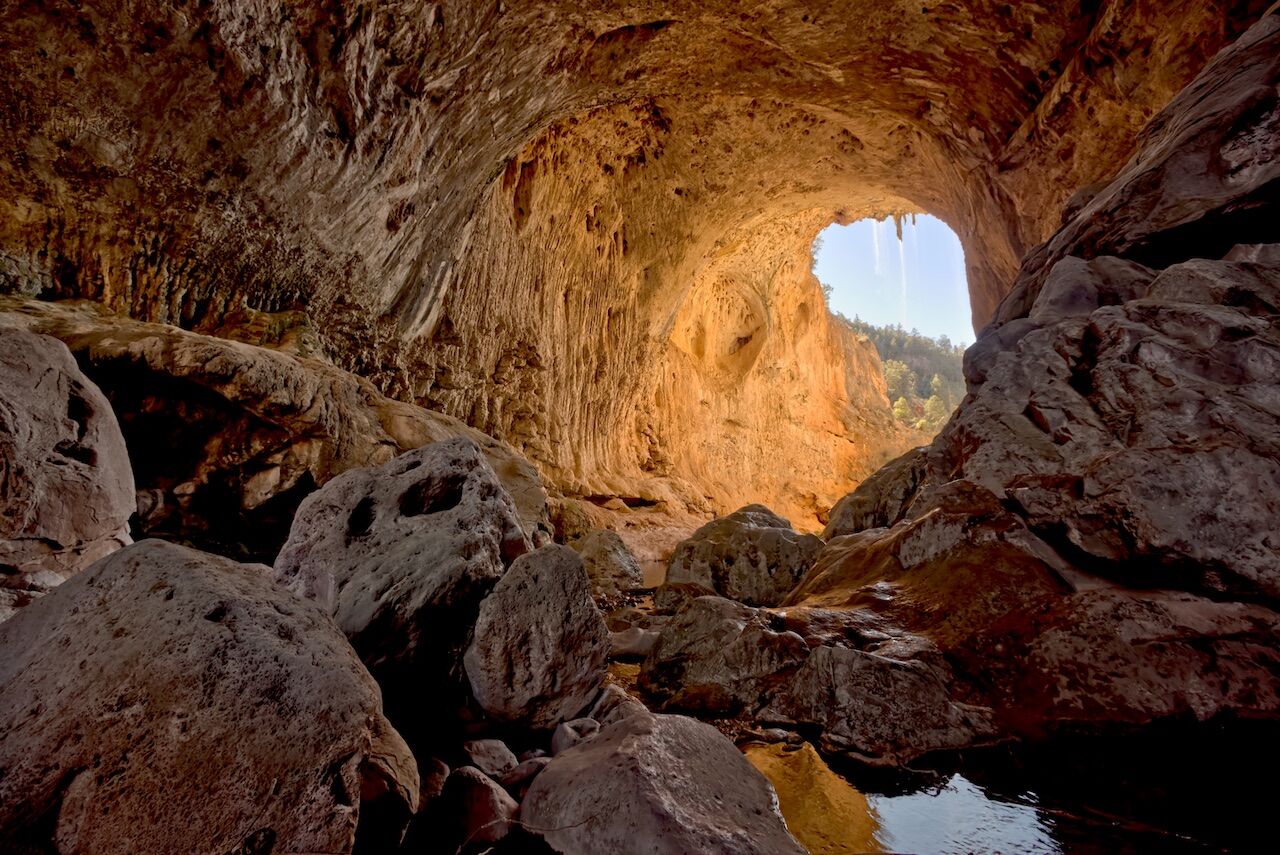 Photo: Cavan Images/Shutterstock
Address: Nf-583A, Pine, AZ 85544
Camping: No
If you like crazy rock formations, head to Tonto Natural Bridge State Park in Arizona. It's is one of the largest natural bridges in the world and believed to be the largest made from travertine. It's 150 feet wide and more than 180 feet tall and has four observation points on top. You can also walk underneath the bridge through the massive rock tunnel. Note that dogs aren't allowed on any of the park trails.
The park has four hiking trails, all of which are extremely short (the longest is .5 miles long), but rather steep. After you've checked out the awesome arch, you can go for a swim in Pine Creek, check out the museum in the park's historic Goodfellow Lodge, or stop by other area attractions, including the Shoofly Native American ruins, some of which are more than 1,000 years old.
Lost Dutchman State Park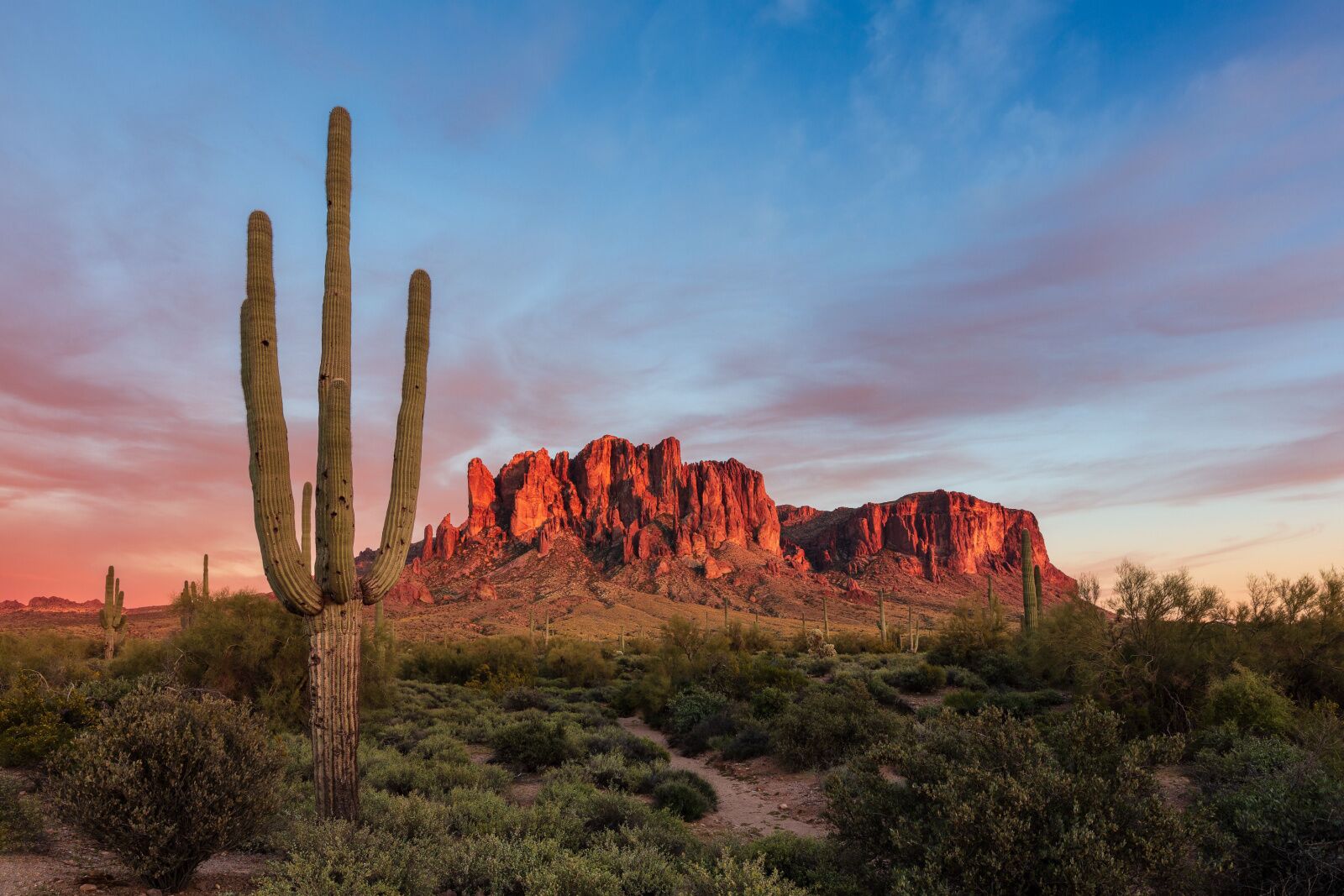 Photo: John D Sirlin/Shutterstock
Address: 6109 N Apache Trail, Apache Junction, AZ
Camping: Yes, plus cabin rentals
The Lost Dutchman State Park is named after a yet-to-be-found gold mine believed to be somewhere in the Superstition Mountains about an hour east of Phoenix. It's only about 320 acres, making it one of the smaller Arizona state parks, but the terrain is does have is gorgeous. Its rugged desert landscape is adorned with towering saguaro cacti, dramatic rock formations, and the imposing Superstition Mountains in the background.
There are several popular hiking trails for all skill levels. The most popular is the 2.3-mile Treasure Loop Trail, which provides panoramic views of the surrounding landscape and is a great introduction to the park's natural beauty. For a more challenging hike, the 5.5-mile Siphon Draw Trail leads to the base of the Superstition Mountains and offers a chance to explore the famous Flatiron formation, though it gains more than 2,600 feet of elevation in the process. Keep an eye out while you're hiking for one of the park's extremely rare gila monsters, as well as other notable wildlife.
Campers can reserve any of the park's 135 campsites online, or opt for a cabin. Cabins start at $89 per night and have heat and A/C, making them a great choice in the colder winter months.
Lake Havasu State Park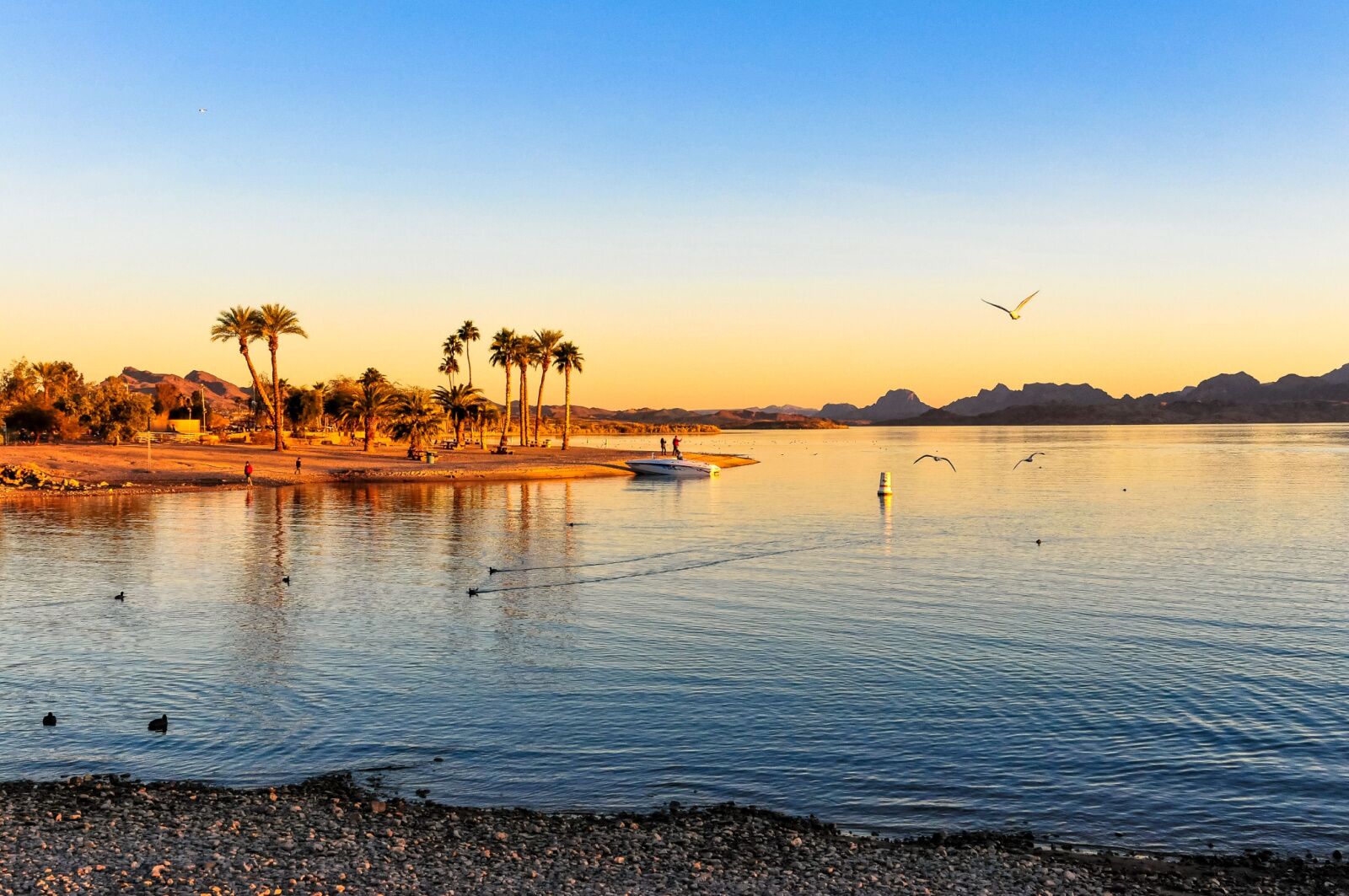 Photo: Matthew Thomas Allen/Shutterstock
Address: 699 London Bridge Rd, Lake Havasu City, AZ 86403
Camping: Yes, plus cabin rentals
Lake Havasu State Park is all about beaching, as you can probably guess from the name. Lake Havasu is a large reservoir created by the Parker Dam on the Colorado River, and it provides plenty of water-based activities. The lake's clear blue waters are perfect for swimming, boating, jet skiing, and fishing. Anglers can cast their lines in search of a variety of fish species, including bass, catfish, and sunfish. You can also rent boats and jet skis from the park's provider, Wet Monkey Watersports Rentals, which operates year-round.
The park's sandy beaches are excellent for sunbathing and picnicking, offering picturesque views of the surrounding desert landscape and the iconic London Bridge, which was dismantled in London, England, and reconstructed in Lake Havasu City. The beaches and big and wide with soft sand, much like you may expect from an ocean beach in Florida or California.
Lake Havasu State Park has both cabins, RV, and tent camping sites. One of the best things about the tent camping sites are that you can reserve a lakefront site for only an extra $5. This is one of the more popular parks in Arizona, so it's best to make your reservations in advance if possible for both camping and cabins.
The park hosts various events and programs throughout the year, including guided hikes, astronomy programs, and educational presentations, providing visitors with opportunities to learn about the local ecology and history.
In summary, Lake Havasu State Park is worth visiting for its stunning lake, which is perfect for water activities, its scenic beaches, hiking trails, and opportunities for camping and outdoor recreation. Whether you're seeking relaxation on the water or outdoor adventures in the desert, this park offers a wide range of activities for a memorable visit in the Arizona desert.
Red Rock State Park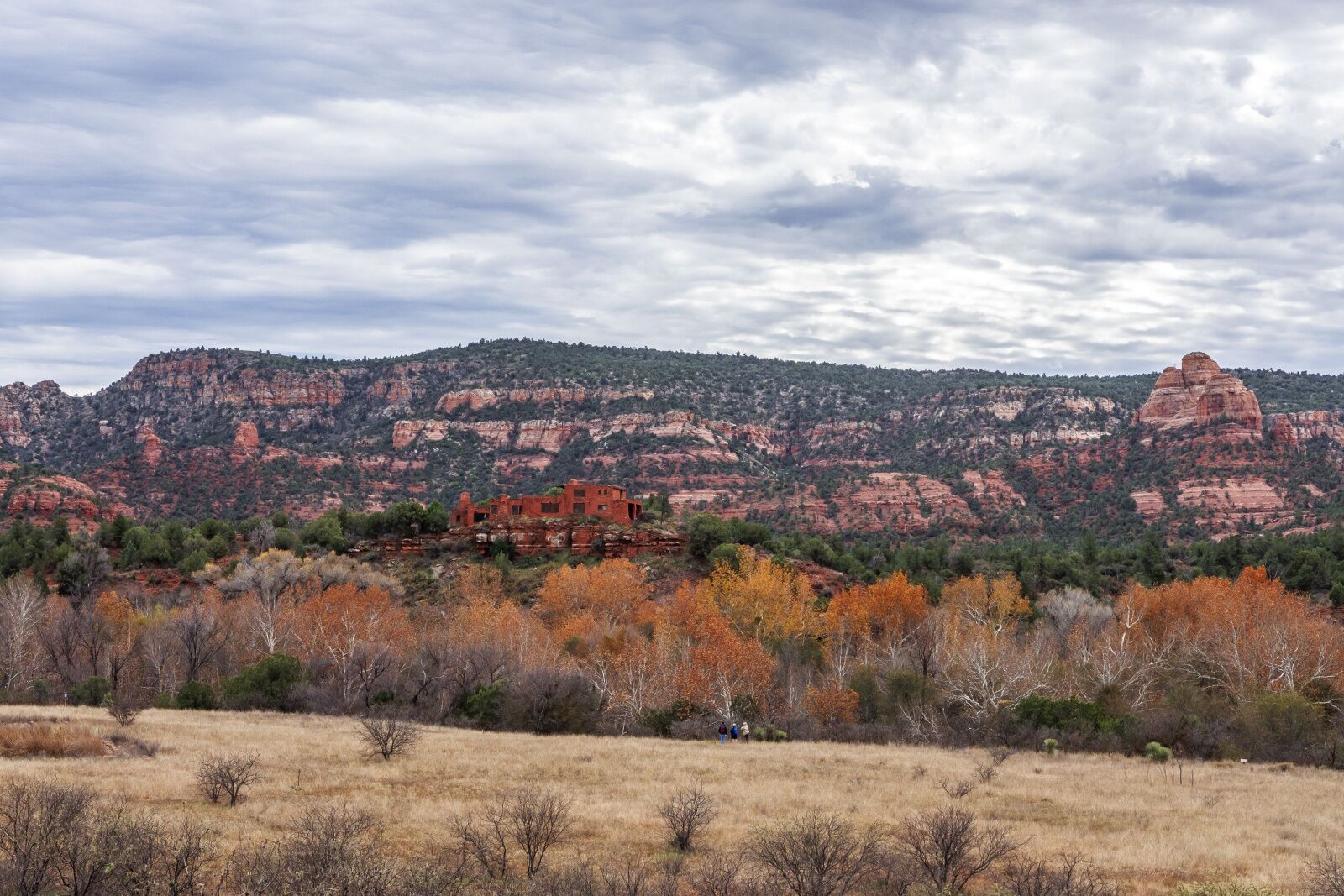 Photo: randy andy/Shutterstock
Address: 4050 Red Rock Loop Rd, Sedona, AZ
Camping: No
Red Rock State Park in Arizona's stunning Red Rock Country, is known for its breathtaking red sandstone formations. The park only has five miles of hiking trails, but they lead to some fantastic viewpoints. Be sure to take the 2.5-mile Eagle's Nest hike, which goes to the tallest point in the park: a viewpoint looking out on all of Sedona. The .8-mile Apache Trail is also worth doing, especially for the chance to see the park's resident otters playing around Oak Creek. And if you want to do a longer hike (and can arrange a pick up), consider doing the Lime Kiln Historical Wagon Trail hike. It's 15 miles each way and connects Red Rock State Park with Dead Horse Ranch State Park.
Beyond hiking, birdwatching is exceptional in this Arizona state park, as is picnicking by Oak Creek, where there's a picnic area with great views. The park hosts frequent guided hikes to look for birds and the park's cute javelinas: cute, medium-sized wild pig-type animals that are usually frolicking adorably in the park's open spaces.
Slide Rock State Park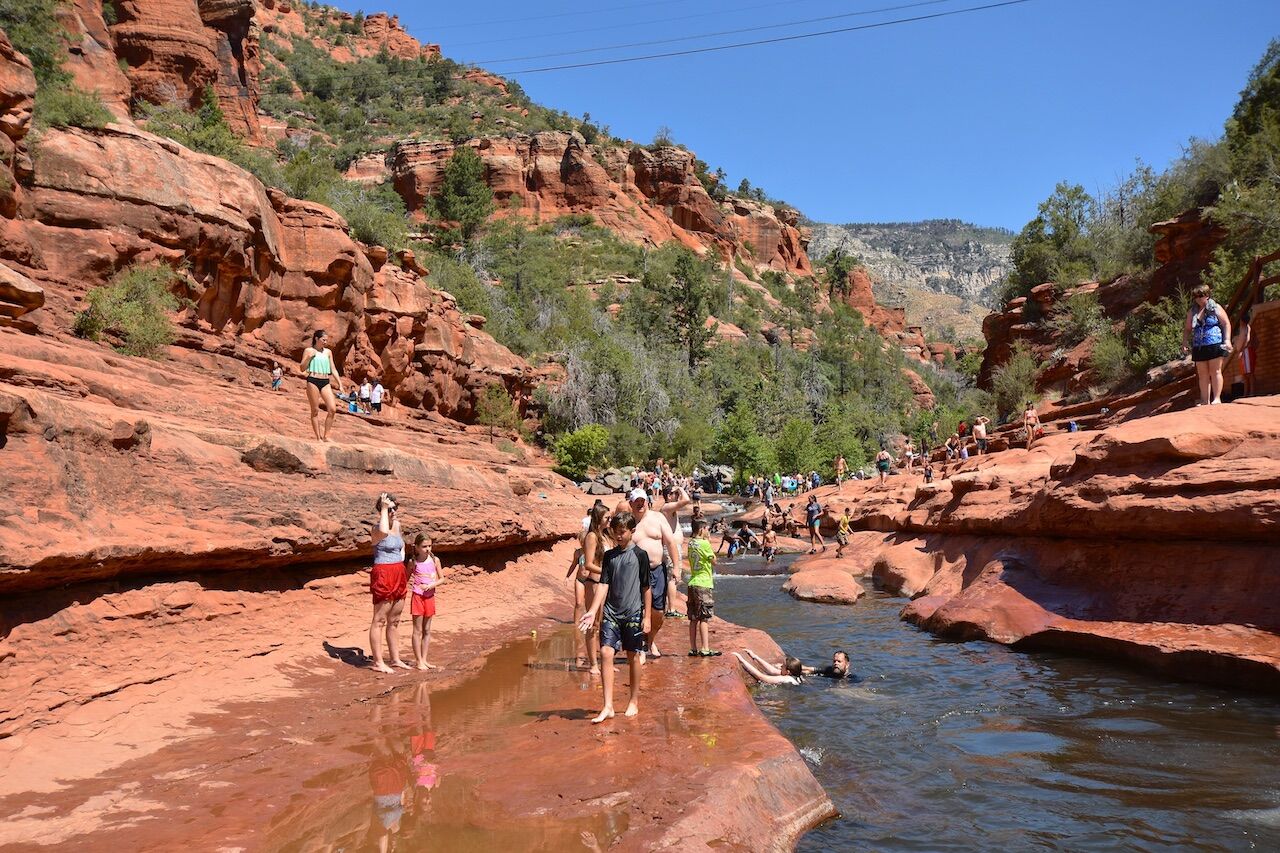 Photo: Lissandra Melo/Shutterstock
Address: 4050 Red Rock Loop Rd, Sedona, AZ
Camping: No
Slide Rock State Park is the most popular recreation spot near Sedona. It was originally an apple farm, and the orchard and historic cabins are still open for visitors. But what truly makes this one of the most popular Arizona state parks is the natural water slide, shaped from smooth, red sandstone in Oak Creek. It's roughly 80 feet long and gets quite busy.
The best time to visit Slide Rock State Park is between June and September, when it's warm enough for swimming and sitting in the river. Try to go midweek if you can, and if you're visiting in the morning, try to get there early both to get a parking spot and stake out a good place to hand out along the rocks. To get to the slide rock swim area, take the .3-mile Slide Rock Route trail along Oak Creek. Pay attention to any posted water quality signs regarding swimming.
Catalina State Park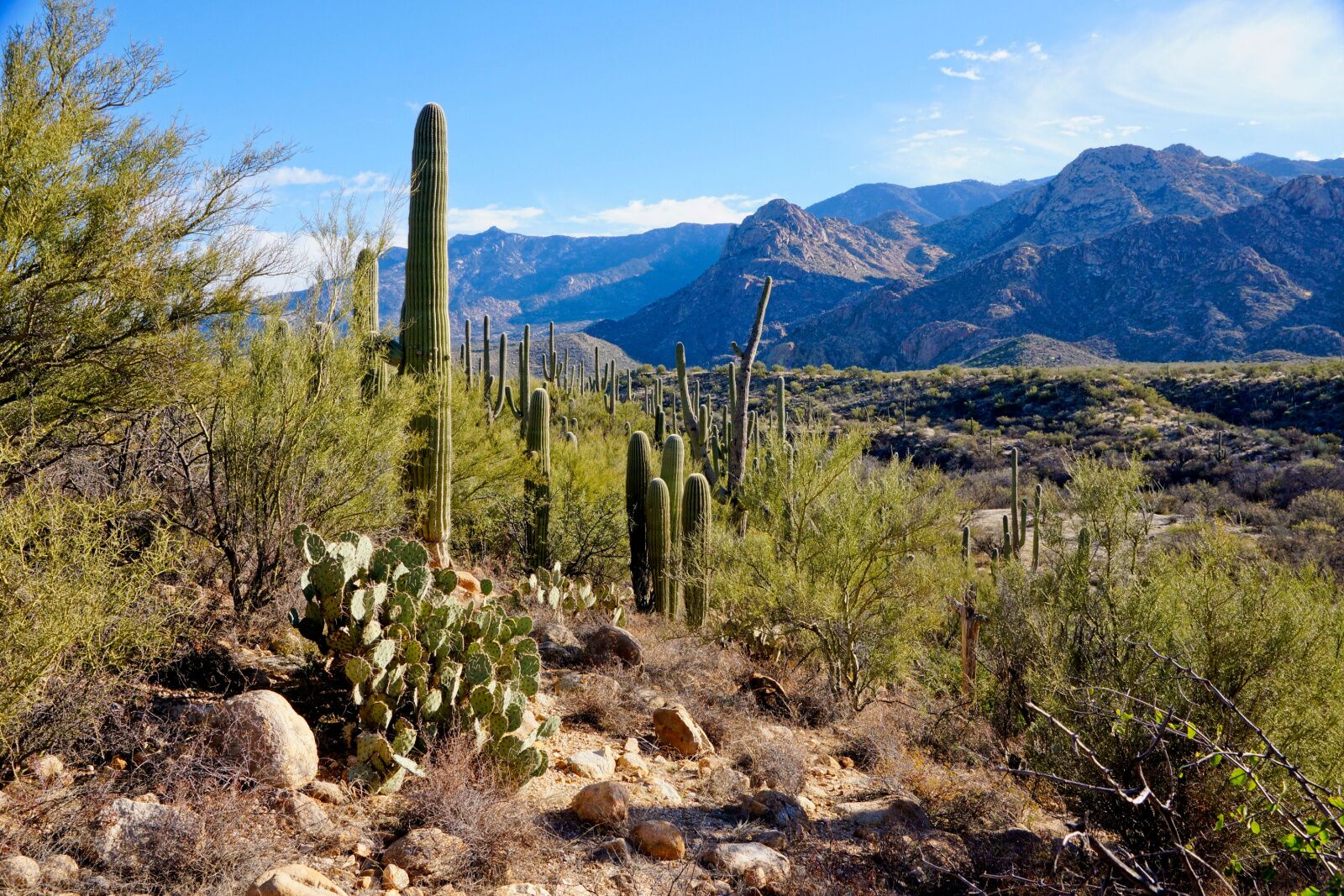 Photo: Bennekom/Shutterstock
Address: 11570 N Oracle Rd, Tucson, AZ 85737
Camping: Yes
Catalina State Park, at the base of the Santa Catalina Mountains near Tucson, is home to nearly 5,000 giant saguaros, plus other desert flora and fauna. Hikers, in particular, will find this to be one of the best Arizona state parks for exploring a natural playground. The Romero Canyon Trail is a standout option, offering an invigorating challenge with its steep inclines that lead to a breathtaking panoramic view of the Catalina Mountains. For those seeking something even more ambitious, the nine-mile Sutherland Trail winds along the seasonal Sutherland Wash, where you can encounter a surprising variety of wildlife and native plants.
Birdwatchers will have no shortage of avian species to seek out, including hawks, owls, and hummingbirds. Stargazing is also great, and throughout the year, Catalina State Park hosts educational programs, ranger-led hikes, and special events focused the park's ecology and history. This is also one of the best state parks in Arizona for dogs as leashed pups are allowed on all trails. If you're planning to camp, reservations are available, but not required.
Jerome State Historic Park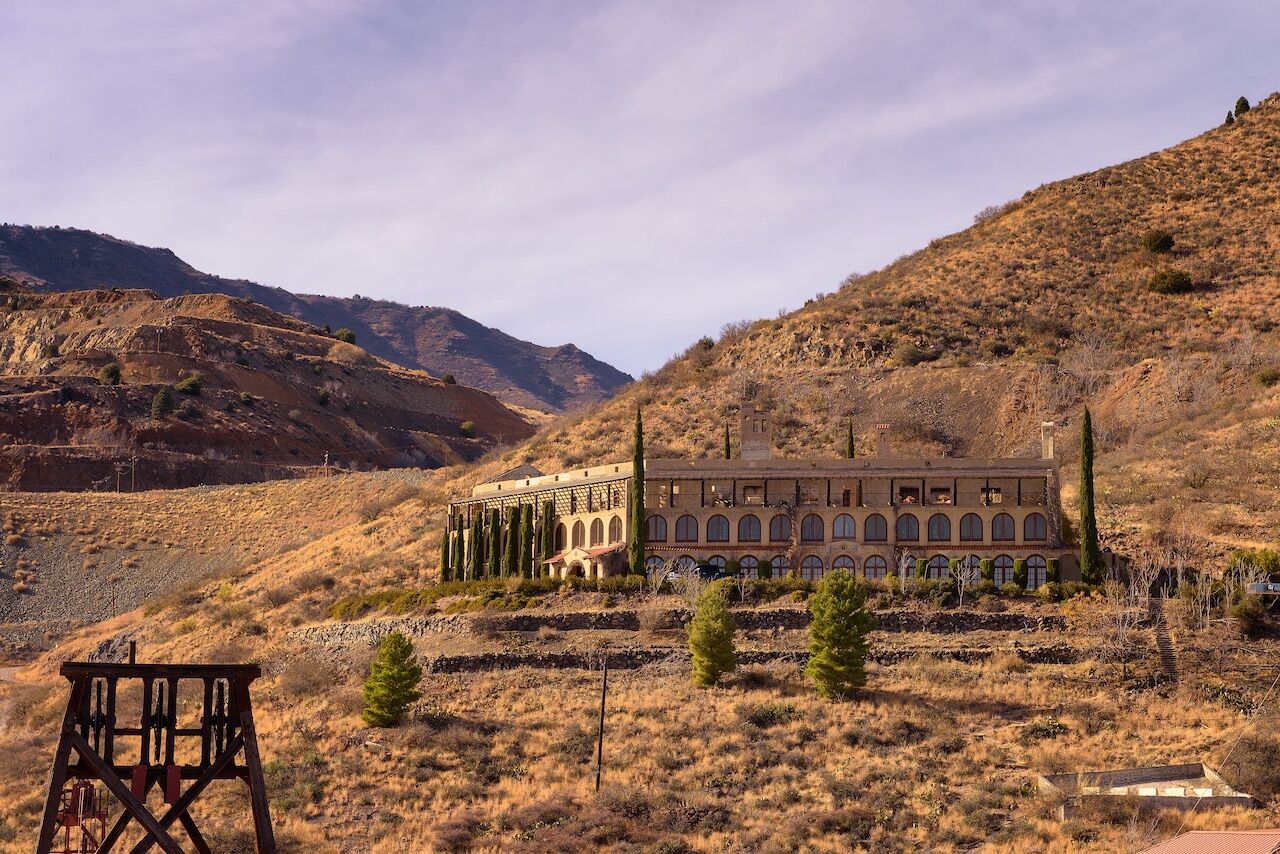 Photo: Nick Fox/Shutterstock
Address: 100 Douglas Rd, Jerome, AZ 86331
Camping: No
Jerome State Historic Park is one of the best Arizona state parks for anyone who wants a single destination that blends history, culture, and stunning scenery. This historic park is high on Cleopatra Hill, overlooking the charming and quirky town of Jerome, a former mining community from the late 19th and early 20th centuries.
The park museum is housed in the Douglas Mansion, a beautifully preserved 1916 mansion that was once home to James S. Douglas, a prominent mining magnate. Inside the mansion, you'll find informative exhibits and displays that showcase the history of the town and its mining industry, as well as the lives of the people who lived and worked in Jerome during its heyday. There's a self-guided tour, plus scheduled events like escape rooms and historical guided tours.
Additionally, Jerome itself is an artsy and quirky town with a colorful past, known for its artistic community, vibrant shops, and eclectic restaurants. After exploring the park, make a visit to the town — it's one of the most unique in Arizona.
Roper Lake State Park
Address: 101 E Roper Lake Rd, Safford, AZ 85546
Camping: Yes, and cabin rentals
Roper Lake State Park is a tranquil oasis that beckons visitors seeking recreational opportunities with relatively small crowds. The lake is available for swimming, fishing, and non-motorized boating, and at only $7 per vehicle, it's one of the cheapest beach trips you can make. The beach area is on the west side of the lake and is separated from the boating area, so it's a relatively safe place to swim (though there's no lifeguard on duty). You can also rent kayaks from the visitor center, if you'd rather be on the water instead of in it.
The cabins here are some of the best at any of the Arizona state parks, with many that sit just steps from the water. They have swinging chairs, picnic tables, and outdoor cooking areas, plus air conditioning and heating. You should reserve your cabin in advance, as well as your campsite. While it's unusual for it to fill up, there are only 50 spots, so it can't hurt to claim yours ahead of time.
For a fun weekend, book a cabin for an overnight. Spend your first day exploring the nearby mountains on the 11-mile Ladybug Trail, then head into the park and cook up a camp dinner at your cabin before spending the next morning swimming, paddling, and relaxing on the beach.